What inspired CatZero's David to get on a bike for the first time in 30 years?
"We encourage CatZero participants to try new things for their personal development – and it's the same for us staff. This is my new thing and my personal development."
That's one of the key reasons why David Andrews, a delivery officer at CatZero, will be cycling 215 miles from the west coast of Britain to the east coast – having not ridden a bicycle since he was a kid.
A month ago was the first time that he has properly climbed on to a bike since then and the first time he has ridden a bike with gears.
David, who is one of the team delivering the Hull Full Families programme, drew his inspiration for his Trans Pennine Trail coast-to-coast ride from a number of sources – not least CatZero's Director of Sailing, Danny Watson.
This year Danny is marking his 50th birthday with his seventh and biggest challenge to date – running 30 marathons in 30 consecutive days, from Brighton to John o' Groats.
In past years, Danny has also led the annual coast-to-coast cycle ride to raise funds for CatZero.
"I was so inspired last year by the coast-to-coast challenge that I started to think about doing it this year," said David. "But there isn't going to be the annual cycling fundraiser this year because of Danny's big challenge.
"I'd already asked who would sponsor me if I did it – people were prepared to sponsor me so I thought I'd do the challenge solo. I'm following Danny's lead."
David, who's also known by his nickname Mevi, will set off from Southport, Merseyside on June 5 and, over three days, cycle to the finish line in Hornsea. The 48-year-old had also decided for his new year's resolutions that "2020 would be the year I calm down".
"I'm one of those people who can't sit still, I am a coiled spring half the time, so I've taken up aerial yoga – which is like yoga in a hammock, a bit Cirque du Soleil – and the cycle challenge is another outlet. If someone had suggested I try yoga three years ago, I would have laughed."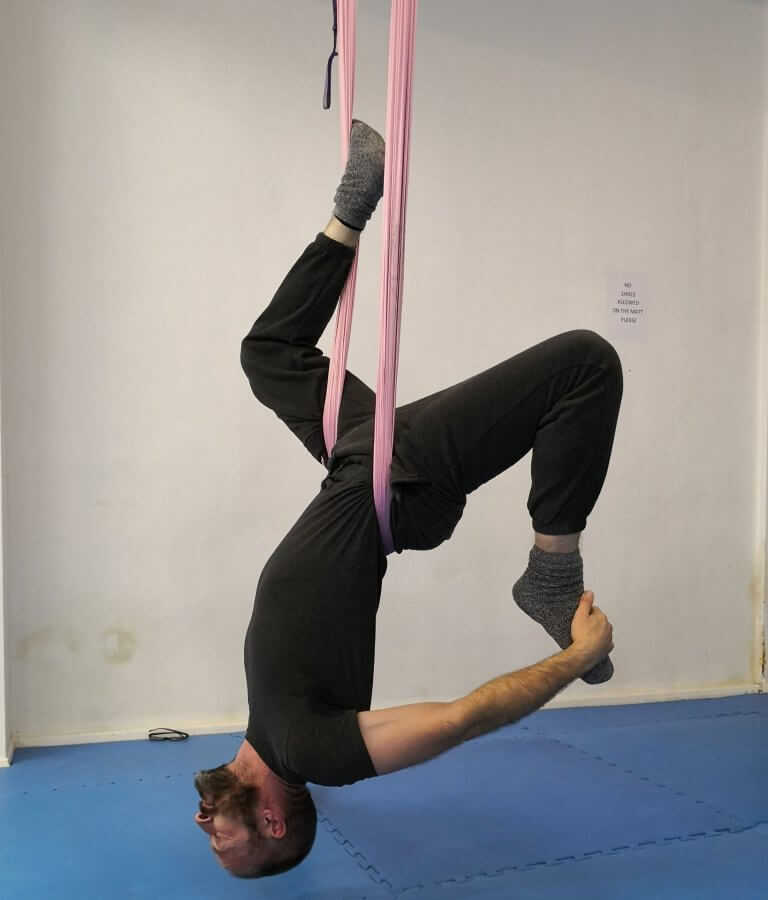 So is he enjoying being a new cyclist?
"Yes and no," said David. "I'm finding it really hard and because I'm concentrating so much, I'm not enjoying it yet. And I ache so much. But I'm pushing through it."
But the training is going well – a month into his training he has already achieved a target of 50km in one evening – and he will be cycling alongside Danny during one of his 30 in 30 Challenge legs through the area to York towards the end of April.
"I'll be cycling alongside Danny for one of his marathons – and then cycling back again, so I will do two marathons in one day."
By then he hopes his endurance and stamina will have improved.
"I had a good level of fitness before I started, but I didn't do anything – I haven't run, for example, since I was 20-21. And whilst my age is not really counting against me, one day it might. So doing this is something I wanted to achieve.
"We encourage participants to try anything and to conquer fears. I have a fear of water, so working at CatZero has given me the opportunity to go out on the yacht to face that fear. I also went caving for the first time last summer!"
David, who has been a part of the CatZero team for 18 months, is keen to lead by example – not least because that for every pound CatZero receives in funding to run programmes, it must be match-funded. So CatZero must find that additional funding.
One hundred per cent of the funds David raises will go to supporting some of the Humber area's most disadvantaged families.
"We work with families and individuals to help them identify the barriers that are holding them back. It might be debt, school attendance, housing – any number of things. We work with them to help them identify what's going well, what's not going well and what needs to change, and support them as they work through their action plan. We don't do it for them, it's about empowering them to make change."
Which is exactly what David is doing. So will he continue cycling after the challenge?
"I'm looking to join a cycling club to get some enjoyment out of it – to make it more fun.
"But then I plan to do a Tough Mudder challenge towards the end of the year…"
To donate to David's target please visit https://uk.virginmoneygiving.com/Mevi
Follow us on Twitter, Instagram, LinkedIn, Facebook and YouTube